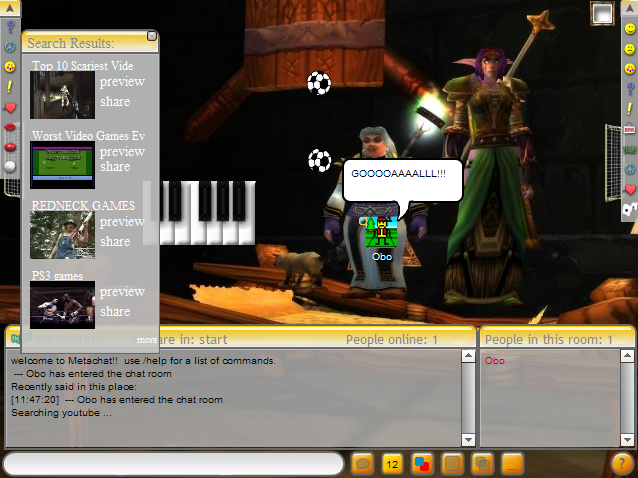 Well obviously it is primarily a chat room, so everything else is an added extra.
You can move around by clicking on the screen.
If you move up next to the footballs and then click on them, they will move off away from you, with the speed that they move depending on how close you were to the ball.
If you get the ball into the goal, your avatar will automatically scream "GOOOAALLL!!!" and the ball will return to the middle of the screen.
If you move up to the piano you can play it by clicking on the keys and everyone will be able to hear what you play.
On the top left corner, if you click on the arrow you bring down a menu of throwable emotes, such as snowballs, tomatoes etc.
On the top right corner there are emotes that will appear over your avatar when used (and a dice emote that will throw a 2d6)
Also on the top left, there is a film icon that lets you search for youtube videos and share them with everyone else in the room.
Every behaviour of the "world" is defined on the server and downloaded when the client loads up. All the assets (art/sounds) exist somewhere on the internet. For example, it is cycling through our screenshots for the background.
So the client can connect to whatever types of world there are available on the platform, be it chat rooms like this, or puzzle games, shooters, rpgs, or a big mmo. Anyone would be able to make a clients to render these worlds. The only official one atm just happens to be a flash client.
Obviously chat rooms like this are easier to make than games, so this is the first type of world being publicly shown.